DONAT foosball tournament 2023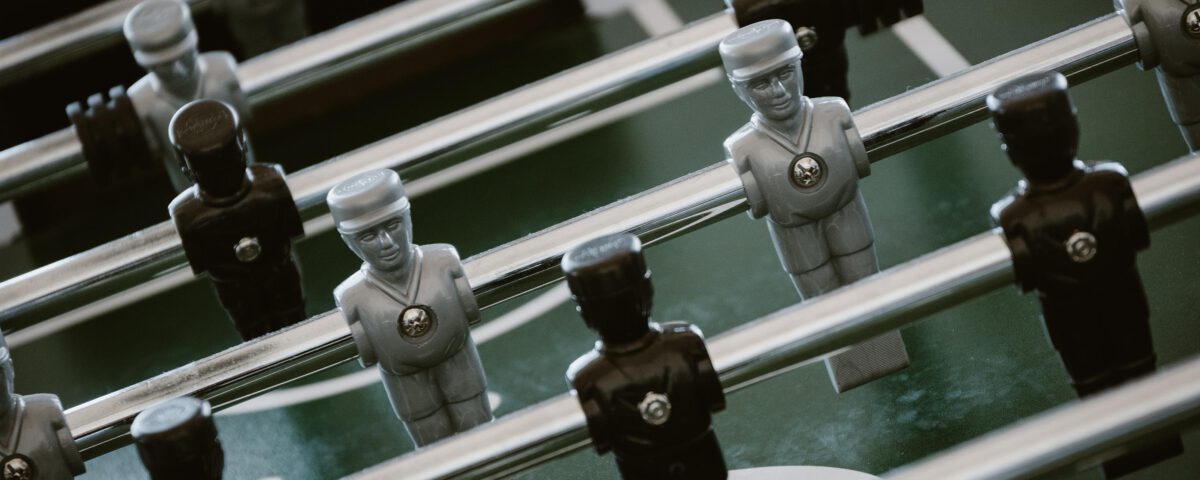 Friday, September 8, 2023, 1 p.m. – Starting signal for the second official DONAT foosball tournament. Highly motivated and freshly fortified with a good snack, eight teams started the tournament this time.
Four teams competed against each other in the group phase and tried to collect as many points as possible in the matches. Only the first two places from the two groups could progress to the semi-finals. So the pressure was high. The game mode in the group stage was "best-of-three". The first team to score six goals in a round is the winner. Once a team has won two rounds, it has also won the game. After the preliminary round matches, it quickly became clear which teams had made it through to the semi-finals.
In addition to Dynamo Dosenbier and Arme Seelen in Not in first place, Brothers in Law and Blind eingespielt also qualified for the semi-finals in second place. In the knockout phase, the "best-of-three" game mode was retained. However, the teams now had to score ten goals first to win a round. After two victorious rounds, the game was also won.
The four teams played exciting and nerve-wracking matches. The eliminated teams joined in the excitement and cheered on the semi-finalists. In the end, the teams Brothers in Law and Dynamo Dosenbier qualified for the grand final.
In the match for third place and in the final, the players gave their all once again. The tension of the teams could be felt throughout the room and it wasn't just the players who were sweating, but also their colleagues who were cheering and cheering on the exciting finals.
The Arme Seelen in Notteam ultimately took third place. In a hard-fought and exciting final, the Brothers in Law team came out on top and won the second official DONAT foosball tournament.
Thanks to all the teams who took part in the tournament with lots of fun and enjoyment and, above all, fair play. Congratulations to 3rd place Arme Seelen in Not, 2nd place Dynamo Dosenbier and 1st place Brothers in Law. For the first time, the top three places were awarded medals and the winners of the tournament were also presented with the golden DONAT Challenge Cup. The Brothers in Law team can now keep it for one year until they compete for it again next year.
We look forward to the next DONAT foosball tournament!